YouTube To MP3
YouTube To MP3 is a software converter to let you download video and extract MP3/music from YouTube.
Download the Top Rated Free YouTube To MP3/Music Converter!

(With less than 2 minutes download, you can use it at any time.)
We hate spyware and bundles. YouTube To MP3 is 100% free to use and is guaranteed not to contain any spyware, viruses or any other kind of malware. You can verify this with these independent scan results by VirusTotal..


Why YouTube To MP3? Why Are We Better?
There are some different software or online website services to download YouTube videos, but none are more Stable, Free, Clean, yet feature-rich than our YouTube To MP3.
Easily select music format from all available formats on YouTube. YouTube To MP3 converter supports all of the YouTube formats, including 44KHz Stereo AAC, 44KHz Stereo MP3, 44KHz Mono MP3, 22KHz Mono MP3, 22KHz Mono 3GP, 8KHz Stereo 3GP. If you are not sure, YouTube To MP3 will automatically try each available format for you, begin with the highest quality formats.


Optimized fast download speed. It connects to youtube.com and downloads/converts YouTube video directly from your local computer. Much faster than most of the online YouTube download sites.


Download YouTube Video is also supported. All resolutions including Super HD, Full HD, HD, HQ, NQ, 3GP, MKV are supported.


Complete FREE and CLEAN. We do not bundle any unwanted software or Ad into it. We do not make money from this software and website.


A very clean GUI.


YouTube often changes its design/layout, even bans some online YouTube downloading services, which makes many YouTube downloader not work. Our YouTube To MP3 supports the newest layout (Update to January 2013) of YouTube.


How to use YouTube To MP3?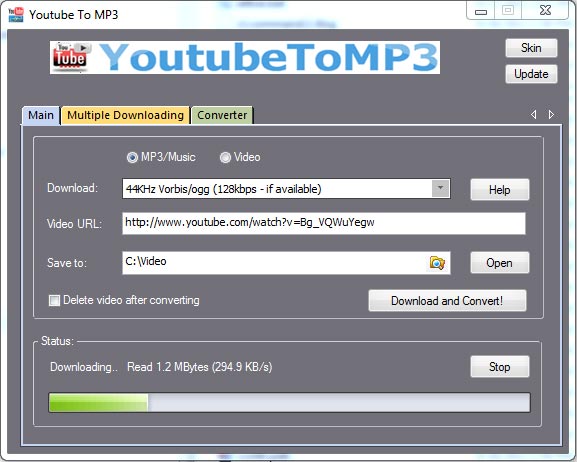 Paste YouTube watch address to the Video URL box. (ex: http://www.youtube.com/watch?v=xxxxxxxxxxx)
Select the music/MP3 quality/format that you want to downloading. You can choose several formats from the drop box:

44KHz Stereo AAC,
44KHz Stereo MP3,
44KHz Mono MP3,
22KHz Mono MP3,
22KHz Mono 3GP,
8KHz Stereo 3GP

If the music formats you selected is not available on YouTube, YouTube To MP3 converter will automatically find & try the most similar one after confirming with you.


Click "Download", and wait for the converting to MP3/AAC.

Done.
If you also want to get videos from YouTube, just clear the 'Delete video after converting' check box or use the 'Video' download page.